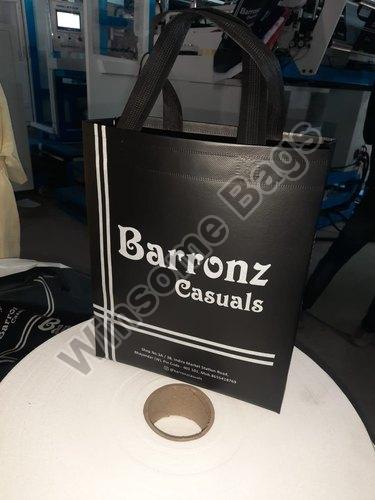 BOPP refers to the Biaxially Oriented Polypropylene. It is a type of plastic film that is largely used in various applications due to its versatile properties. BOPP is produced through a process known as biaxial orientation. In this process, the polypropylene resin is melted and then stretched in two directions (biaxially) in order to align the polymer chains in both the machine direction (MD) and transverse direction (TD). This stretching process helps in enhancing the film's mechanical properties and clarity.
A BOPP laminated non woven bag is a type of reusable and environmentally friendly bag often used for shopping or carrying various items. BOPP is a type of plastic film that is frequently used for lamination. It is known for its clarity, strength, and resistance to moisture. BOPP is mostly used to provide a glossy and protective layer to the surface of materials, such as non-woven fabric, paper, or cardboard.
Lamination in the context of bags, refers to the process of mixing two or more layers of materials together to amplify the bag's strength, durability, and appearance. In reference to the BOPP laminated non woven bag, BOPP film is probably applied to one or both sides of a non-woven fabric to make a glossy and protective layer.
Non-Woven: Non-woven fabric is a type of fabric that is made by bonding or felting fibers together rather than weaving or knitting them. Non-woven materials are mostly used in bags because they are strong, lightweight, and can be produced at a lower cost compared to traditional woven fabrics. Non-woven bags are also considered more eco-friendly than single-use plastic bags because they are reusable and can help to reduce plastic waste.
Laminated non-woven carry bags have lots of useful properties like cushioning, strong, air permeability (Dehumidifying Factors), reusable, soft, liquid repellent, durable, non-allergic to human bodies, and eco-friendly. It is also easily customizable. This fabric is made of spun bonds which can be recycled, naturally decompose and completely incinerated without any production of poisonous pollutants. It doesn't pollute as no water is used in the production process. The material is recyclable that makes it environmentally friendly and inexpensive.
BOPP laminated non woven bags are a worldwide choice for shopping bags due to their durability, water resistance and attractive design options. To make it an eco-friendly alternative to single-use plastic bags, they use 100% recyclable and reusable polypropylene material.
Some more advantages to use BOPP laminated non-woven bags
In summary, a BOPP laminated non woven bag can be reused that is made from non-woven fabric that has been coated or laminated with BOPP film. This lamination brings the bag with added strength, moisture resistance, and a glossy appearance. These bags are famous for retail packaging, promotional items, and as an eco-friendly alternative to single-use plastic bags.